DE-ÖKO-022
Back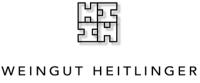 2022 Heitlinger White**
The grapes are gently harvested by hand, carefully sorted and gently pressed after a juice skin contact time of about 24 hours. Grown on Keuper soils with clay and loess overlay.

Cuvée of the main Kraichgau grape varieties Rivaner, Riesling, Cabernet Blanc and Muscat.
Fresh aromas of pineapple, grapefruit and melon. Tangy finish.

To salads, asparagus and fish.
Product information
Category

Wine

Color

white

Taste

dry

Vintage

2022

Bottle size

0,75 Liter

Quality level

Deutscher Qualitätswein

VDP Classification

VDP.GUTSWEIN

Origin

Baden (DE)

Alcohol percentage

11,5% vol

Acidity

5,9 g/l

Residual sugar

5,9 g/l

Contains sulfites

Yes

Recommended serving temperature

7 - 10 °C

Öko-Kontrollstellennummer Produzent

DE-ÖKO-022
Allergens
Information about the shop of Weingüter Heitlinger & Burg Ravensburg GmbH
---